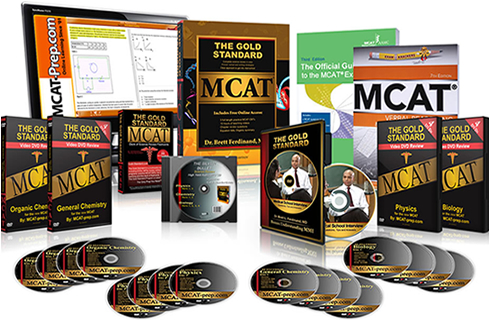 Complete MCAT Book Package for Home Study
MCAT-Prep.com
Category: Full Programs
Books, Audio MP3, 16 DVDs, Flashcards, CBT Tests

We are including the new AAMC Official Guide to the MCAT Exam 3rd Edition with REAL past questions and answers (3rd Edition, Publ. 2013). If you already have any of the items in the picture above, let us know so we can give you alternate prep or a discount.
The #1 Book, Video, MP3 Package to help you ace the new 2014 MCAT CBT.
Includes: The newest edition Gold Standard MCAT textbook – hardcover and updated in full color! The Gold Standard is the 2010 Benjamin Franklin Award Finalist for Most Improved Redesign.
The new 392 page guide to the MCAT exam by the official creators of the MCAT, the AAMC* with REAL past MCAT Q&A (Publ. 2013).
The Silver Bullet High Yield MP3 Audio on CD (newest edition).
The Gold Standard MCAT CBT Flashcards (newest edition).
The Gold Standard includes a complete review and 3 online MCAT CBTs with the new AAMC format.
The videos are like having a home tutor with clear teaching including a study plan!
The complete 20 hour Video DVD Science Lecture Series (Publ. in 2010, newest edition): Physics, Biology, General Chemistry, and Organic Chemistry. The DVDs cover all the MCAT CBT science topics for the 2013 exam.
For more details regarding each item: click here.
Get free temporary online access to videos while you await shipment
(4-6 business day to the U.S. and Canada) just by asking!
** Add an additional 7 Gold Standard MCAT CBTs for a total of 10 full length practice exams with the new AAMC Format; PLUS Examkrackers Verbal Reasoning and Mathematical Techniques (Publ. 2011; newest Edition); PLUS The Medical School Interview DVD ($29.95 value) for only $100 extra (save $110!).
Complete MCAT Book Package with 10 Practice MCAT CBTs & Examkrackers Verbal Reasoning and Mathematical Techniques
---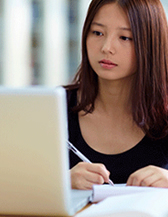 Complete MCAT Course - The Platinum Package
MCAT-Prep.com
Category:
Full Programs
Textbooks, MP3, 17 Videos